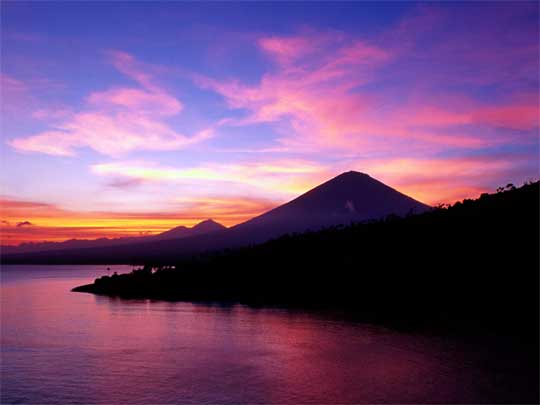 Lush and languid, Bali beguiles with its beach-side charms.
Bali is so picturesque that you could be fooled into thinking it was a painted backdrop: rice paddies trip down hillsides like giant steps, volcanoes soar through the clouds, the forests are lush and tropical, and the beaches are lapped by the warm waters of the Indian Ocean.
Recent tragic events have scared away many of those who simply saw Bali as a place for cheap beer. While the Bintang is still tasty and plentiful, Bali's temples, ceremonies, beaches, mountains and passion for life are undiminished and more easily enjoyed than ever.
Travel Warning: Check Before You Leave
High level terrorism-related warnings have been issued by Western governments concerning travel in Indonesia, including Bali. Travellers are advised to check with their local embassy or travel advisory for up-to-date information before making travel plans. Terrorist bombings aimed at tourists took place in 2002 and 2005 and although it is normally safe, the island could be a target in the future.
Check out Safe Travel for updated government warnings.
severity: High-level alert
Weather
Just 8° south of the equator, Bali has a tropical climate - the average temperature hovers around 30°C (mid-80s°F) all year. Direct sun feels incredibly hot, especially in the middle of the day. In the wet season, from October to March, the humidity can be very high and oppressive. The almost daily tropical downpours come as a relief, then pass quickly, leaving flooded streets and renewed humidity. The dry season (April to September) is generally sunnier, less humid and, from a weather point of view, the best time to visit, though downpours can occur at any time.
There are marked variations across the island. The coast is hotter, but sea breezes can temper the heat. As you move inland you also move up, so the altitude works to keep things cool - at times it can get chilly up in the highlands, and a warm sweater or light jacket can be a good idea in mountain villages such as Kintamani and Candikuning. The northern slopes of Gunung Batur always seem to be wet and misty, while a few kilometres away, the east coast is nearly always dry and sunny.
Air-con is not really needed on Bali at night. A cool breeze always seems to spring up in the evening, and the open bamboo windows, so common in Balinese architecture, make the most of the light breezes.
Events
Apart from the usual western calendar, the Balinese also use two local calendars, the Hindu saka and the wuku . The wuku calendar, which is used to determine festival dates, uses 10 different types of weeks between one and 10 days long, all running simultaneously! The intersection of the various weeks determines auspicious days. It's impossible to work it out yourself: when you arrive in Bali, go to a tourist office and ask which festivals and celebrations are coming up. Try to get to at least one.
The Galungan Festival , Bali's major feast, is held throughout the island and is an annual event in the wuku year. During this 10-day period all the gods come down to earth for the festivities and barongs (mythical lion-dog creatures) prance from temple to temple and village to village. The last and most important day of the festival is Kuningan .
is the major festival of the saka year - it's the last day of the year, and usually falls towards the end of March or the beginning of April. The day before is set aside as a day of purification across the island. The night before, evil spirits are noisily chased away with cymbals, gongs, drums and flaming torches. On Nyepi itself, everyone stays quietly at home, making no noise, using no lights and doing no cooking. The idea is that when evil spirits descend, they are fooled into thinking that Bali is uninhabited and leave the island in peace for another year.
Getting There
Most international visitors arrive by air, either directly or via Jakarta, though island hoppers can catch frequent ferries from the neighbouring islands of Java and Lombok. There are direct flights to Jakarta and Bali from major airline hubs in Asia such as Singapore, Bangkok and Hong Kong. There are direct flights from major Australian cities. The departure tax on international flights is about US$10.00 . Bali is well connected to most of Indonesia and has direct domestic flights to Java, Lombok and outlying islands on a daily basis. Fares have increased considerably in recent years but are still good value. Domestic departure tax is US$2.00 Transport from Ngurah Rai international airport, 2.5km (1.5mi) south of Kuta, is quite simple. Pay a set price at the airport taxi counter, or walk across the airport car park and hail a metered cab outside the airport's roadway exit. The impecunious (and lightly laden) can walk straight up the road to Kuta, although it's a more pleasant stroll along the beach. A ferry shuttles constantly between the western Balinese port of Gilimanuk and Ketapang in eastern Java. Boat/bus combination tickets between Denpasar and Javanese cities can be purchased. Ferries between the eastern Balinese port of Padangbai and Lembar on the west coast of Lombok depart throughout the day. A few ferries link Bali with other Indonesian islands.
Getting Around
The main forms of public transport on Bali are the cheap buses and bemos that run on more or less set routes within or between towns. If you want your own transport, you can charter a bemo or rent a car, motorcycle or bicycle. The Balinese drive on the left, use their horns a lot and give way to traffic pulling onto the road. Tourist shuttle buses, running between the major tourist centres, are more expensive than public transport but are also more comfortable and convenient.
VISA REGULATIONS
The government of Indonesia has changed its visa policy for foreign tourists effective February 1st., 2004.
Visiting Indonesia Without Any Visa
Entering Indonesia without any visa is possible now only for nationals of the following 11 countries and territories: Brunei Darussalam, Chile, Hong Kong, Macau, Malaysia, Morocco, Peru, the Philippines, Singapore, Thailand and Vietnam.
Citizens of the above countries will be issued on arrival a stay permit for 30 days free of charge upon presentation of a passport which is valid at least for another 6 months. This stay permit cannot be extended or converted into another type of visa.
VISA on ARRIVAL (VoA)
This facility is now available for nationals of the following countries: Algeria, Argentina, Australia, Austria, Bahrain, Belgium, Brazil, Bulgaria, Cambodia, Canada, Czech Republic, Denmark, Egypt, Estonia, Fiji, Finland, France, Germany, Greece, Holland, Hungary, Iceland, India, Iran, Ireland, Italy, Japan, Kuwait, Laos, Latvia, Libya, Lichtenstein, Lithuania, Luxembourg, Maldives, Malta, Mexico, Monaco, New Zealand, Norway, Oman, Panama, People's Republic of China, Poland, Portugal, Quatar, Romania, Russia, Saudi Arabia, Slovakia, Slovenia, South Africa, South Korea, Spain, Suriname, Switzerland, Sweden, Taiwan, Tunisia, United Arab Emirates, United Kingdom and the United States of America.
Citizens of these countries will be able to apply for a VoA valid for either 7 or 30 days upon arrival by air in Bali, Jakarta and a few other international airports or by ship at a limited number of Indonesian sea ports. A 7-day visa costs US$10 and a 30-day visa costs US$25.
The VoA cannot be extended or converted into any other kind of visa. Also be aware that Immigration officials calculate the 30-day period as follows: your arrival day is counted as your first day, and you must leave the country on the 30th. day!
How to Obtain the "VISA on ARRIVAL" (VoA)
Travelers from the above countries must be in posession of a passport which is valid for at least 6 months from the date of arrival and the completed embarkation/disembarkation card they received from their airline. They must also be able to prove they have sufficient funds for their stay in Indonesia.
Arriving travelers with Visa-On-Arrival status have to go first to one of the 'VoA Counters' to pay the appropriate fee and have their passports stamped with the VoA before proceeding to the Immigration Clearance Desk. An official bank is part of the VoA service counters. Payment of visa fees can be made in all major currencies or by VISA or MASTERCARD.